Hosting is a messy business, there is nothing quite like it. This has nothing to do with the culture of the industry or the companies involved, no. But it is about how you feel as a customer in this industry. But there is a catch here as well, its messy for the newbies, the ones without any knowledge of how this works.
You see, hosting has very high demand and with any other sector with high demand, it also has a high supply. This becomes a problem for those looking to foray into this sector, even as a customer. You will just be confused with the endless options you have and everything seems to be the same.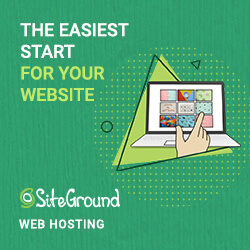 I'll help you out a little. I will tell you what I like about some of the most popular hosts in the industry and you can pick what you want for yourself. But know this, there is nothing called the best host, it's all about the right fit between your requirements and what the host offers.
That being said, let's get on to SiteGround, a company that is among the oldest and most popular hosts on the planet. Founded in 2004, it was based out of Bulgaria with the aim of providing a globally oriented hosting service right from Europe's backyard. 
While it is not among the cheapest options you will find in the market, it is definitely one of the most performance-oriented hosts you will find. Now to what I personally love about SiteGround.
Speed and Performance
As I said earlier, SiteGround does not go big on prices. It still has offers like the one currently running now where you get huge discounts. But the company does not depend on the prices to get the customers it wants, it takes the performance route for it.

It is one of the fastest hosts in the market, apart form perhaps A2's monster offering. And that's not all, the company also boasts of very high up-time which I can personally vouch for. I have used SiteGround for years now and I am yet to see an average up-time that is below the industry standard.
That Strong Feature Set
The feature set offered by SiteGround is very strong, by far the strongest I have seen in any web host. If you are technically biased like I am, then you will love it. You get unlimited accounts and emails and daily backups on their end. This increases the data redundancy and helps you out a lot.
All that is nice, but this is where SiteGround got me, the developer-oriented features. It integrates well with Cloud Flare's CDN, increasing speeds. You get free PCI compliance and free Git and staging areas. It's geek heaven.
Support Access
Customer is important and I can't tell you how much until you see for yourself. Wait for your site to crash and then wait for the chaos. It will be bedlam and the only ones who can save you are the service reps.
The first thing oi noticed that you get connected instantly, and I mean instantly. Take a sip of your coffee and you got a response, that quick. Second, just like their offering, they have a custom knowledge base for their service reps and organised technical events for them.